The Central Coast Woodturners Co-op is a not for profit Co-operative.  The Club was formed in 1985 by a small group of enthusiasts, to promote the art of woodturning and related crafts (such as scroll sawing, wood carving, pyrography and toy making).
We have a well equipped workshop that is located at The Old Milk Factory, 141 Alison Road, Wyong and is open to members on Friday, Saturday and Monday mornings. A range of woodworking merchandise and library facilities are available. There is a dedicated group of enthusiasts who provide training to help develop skills with wood turning and craft areas as required.
The Central Coast Woodturners comprise members who have a passion for working with wood. The club comprises a group of volunteers who generously provide their time, skills and expertise to help promote the various aspects provided by Central Coast Woodturners. A key feature of CCWT is the friendly and supportive atmosphere where all members are encouraged to participate and produce wonderful pieces made from wood.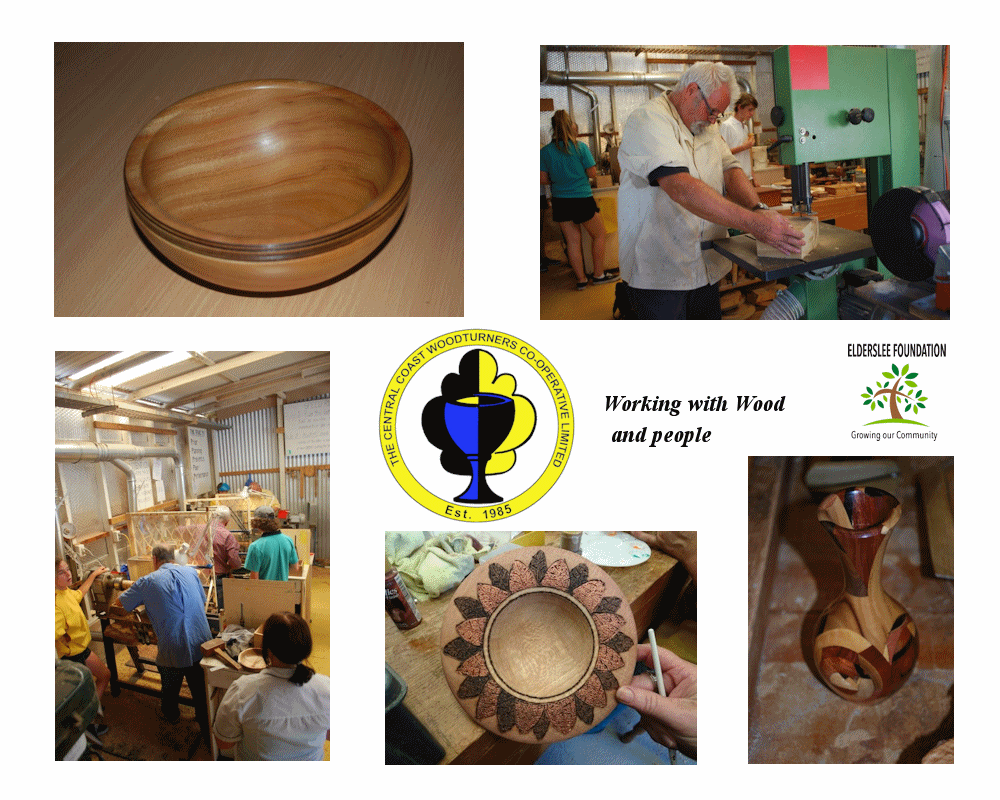 Club details are included in the Community Directory websites of both Gosford and Wyong Shires.
The club organises demonstrations, displays and sales at various shopping centres and events such as the Orchid Festival, Australia Day celebrations, Mardi Gras and the Sydney Working with Wood Show.
CURRENT IMPORTANT INFORMATION FOR MEMBERS:
Since June 2021, Central Coast Wood Turners have had to suspend operations during the pandemic and according to NSW Government Health directives. It is hoped that the club may commence some form of operation in the near future and members will be notified as soon as possible after the Board has had the opportunity to meet.
LATEST COVID UPDATE:
UPDATE
: 1st November 2021
From our club President
;
We are now open at the Workshop. This is just to remind you of the restrictions still in place that govern our ability to open.
You must be double-vaccinated.
You must bring proof of double vaccination.
You must sign in using the QR code at the entrance to the workshop. If you are unable to do this report to the workshop manager who will be able to sign you in.
You must sign in the book for insurance reasons.
You must maintain a 1.5m distance.
Please bring a facemask as they must be worn indoors.
Only experienced turners able to work on their own, will be able to attend the workshop. Sorry, but NO BEGINNERS until January 2022.


Because of maintaining the 1.5m safe distance and wearing a facemask we are still unable to teach beginners.

The tearoom is closed except to make a drink or it may be necessary to use it as a possible overspill room for carvers.

If anything is needed from the shop, see the workshop manager.

The board has decided these conditions of entry will remain until our Christmas / New Year closure. Conditions of entry in January 2022 will be circulated in December 2021.


Find Us on Facebook