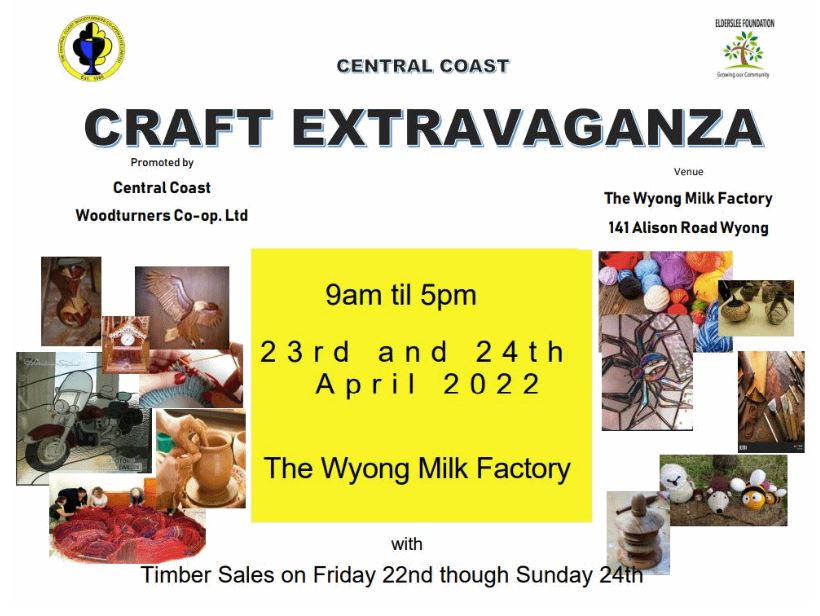 Important Notice
1. The clubhouse is open with supplies still available through the store.
2. It has been necessary to postpone the Board Meeting once again. It has been re-scheduled for Saturday 4th June 2022. Members will be notified of any changes.
3. A big mention and thank you to Garry Buckman for organising the very successful extravaganza on the weekend (April 23rd and 24th). It was pleasing also seeing several people showing interest in the club and obtaining membership forms on the day. We hope to see many more interested in our club and it's offerings.
About Central Coast Wood Turners Cooperative
The Central Coast Woodturners Co-op is a not for profit Co-operative.  The Club was formed in 1985 by a small group of enthusiasts, to promote the art of woodturning and related crafts (such as scroll sawing, wood carving, pyrography and toy making).
We have a well equipped workshop that is located at The Old
Milk Factory
, 141 Alison Road, Wyong and is open to members on Friday, Saturday and Monday mornings. A range of woodworking merchandise and library facilities are available. There is a dedicated group of enthusiasts who provide training to help develop skills with wood turning and craft areas as required.
The Central Coast Woodturners comprise members who have a passion for working with wood. The club comprises a group of volunteers who generously provide their time, skills and expertise to help promote the various aspects provided by Central Coast Woodturners. A key feature of CCWT is the friendly and supportive atmosphere where all members are encouraged to participate and produce wonderful pieces made from wood.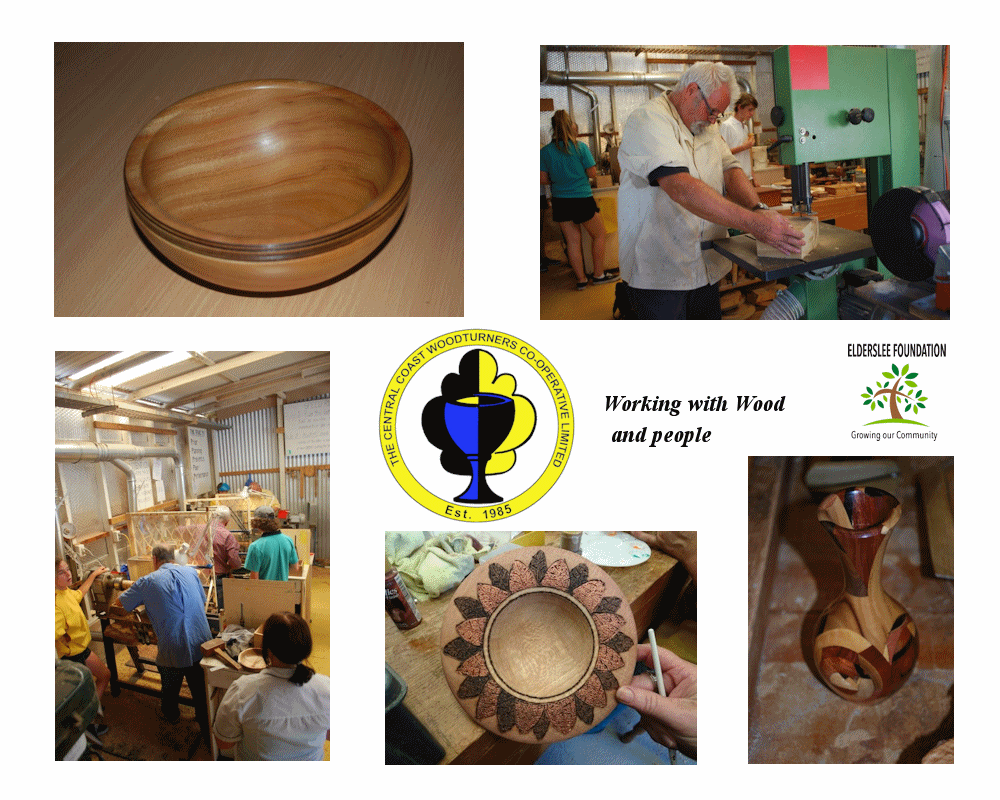 Club details are included in the Community Directory websites of both Gosford and Wyong Shires.
The club organises demonstrations, displays and sales at various shopping centres and events such as the Orchid Festival, Australia Day celebrations, Mardi Gras and the Sydney Working with Wood Show.
CENTRAL COAST WOOD TURNERS ARE OPEN
After an extended closure due to the pandemic, Central Coast Wood Turners is open for members and beginners. The club follows all government directives and we are pleased that operations are nearing normality again.
If you are a member who has not been for a while you we would love to see you back. New members of all skill levels are welcomed by our club, where our enthusiastic and friendly volunteer supervisors will happily mentor in your area of interest.
All members of CCWT are volunteers. We are not a commercial enterprise but may be able to assist individuals with small projects. In April 2022 (see below) our club will be holding an extravaganza, where items will be displayed and sold (wonderful gifts for Mother's Day!). There may also be skills demonstrations by some members of our club. A lucky few may even receive a small gift.
UPCOMING CRAFT EXTRAVAGANZA 23rd & 24th APRIL 2022
Timber Sales 22nd to 24th April
**SUCCESSFUL EVENT**